22

nd

Excellence in Services International Conference at Thessaloniki (2019)
21

th 

Excellence in Services International Conference at Paris (2018)
---
20

th 

Excellence in Services International Conference at Verona (2017)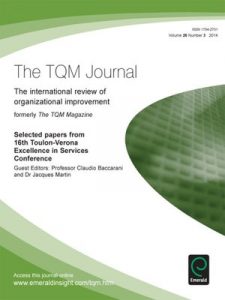 SPECIAL ISSUE on The TQM Journal
free access (until 22 September 2018)
---
19

th 

Toulon-Verona Conference "Excellence in Services" at Huelva (2016)
---
18th Toulon-Verona Conference "Excellence in Services" at Palermo (2015) 
Social responsibility in the medical and social sector: the exmaple of France
Bertezene-Bayart-Vallat-Martin
Does social couponing stimulate positive E-word-of-mouth and referrals?
Cassia-Magno-Ugolini
E-tailing as an evolution of the distribution channel in tourism
Cavallone-Modina
Scholarly management journals: Are they relevant for practitioners? Results of a pilot study
Giaretta-Brunetti-Minozzo-Rossato-Castellani-Baccarani-Bonfanti
Towards a perfect learning process. – Where is Sweden?
Isaksson-Yamamoto-Garvare
Implementing clusters for economic development in emerging economies: the case of Luong Bamboo sector in Thanh Hoa province, Vietnam
Nguyen Ngoc Dung-Martin
How universities institutionalize 'good' managerial practices? Some evidence from the Italian cultural sector
Nigro-Ianuzzi-Petracca
---
17th Toulon-Verona Conference "Excellence in Services" at Liverpool (2014)
---
16th Toulon-Verona Conference "Excellence in Services" at Ljubljana (2013)
Serious Games: Leverage for Knowledge Management
Bayart C., Bertezene S., Martin J., Vallat D.
Social Media Marketing in the Wellness Industry
Lagrosen S., Grundén K.
Strategic Planning and Benchmarking Perceptions and Concerns from Public and Private Western Balkan Universities
Papadimitriou A.
Efficiency Levels of Public Sector Units – Empirical Analysis for Local Jurisdictions in Slovenia
Pevcin P.
A 5 Senses Perspective to Quality in Hospitals
Baccarani C., Ugolini M.
Loyalty and Switching Behavior among Corporate Energy Customers: A Study in the Italian Context
Vigolo V., Cassia F.
Service quality kaizen blitz: the road to improving customer satisfaction
Teehan R., Tucker W.
---
15th Toulon-Verona Conference "Excellence in Services" at Rishon Lezion (2012)
Services Branding: Is it a Matter of Gender?
Ugolini M., Cassia F., Vigolo V.
Optimising the pathway for an organisational change management program
Cocks G.
The last minute market model: An innovative service of efficient assortment management in a sustainability perspective
Bonfanti A., Brunetti F., Castellani P.
Improving the quality of services at the University of Oviedo
Suárez A.A., Albañil P., Alonso J., Martís R., Catalán C., Pascual M.G.
---
14th Toulon-Verona (ICQSS) Conference "Excellence in Services" at Alicante (2011)
The creation of sustainable value in SMEs: a case study
Ciasullo M, Troisi O.
Co-Innovation in Creative Intensive Business Services: The Role of Clients in Advertising Agencies' Innovation Processes
Masiello B., Marasco A., Izzo F.
Schools Self-Assessment: A Study on the Levels of Stakeholders' Involvement in the Process
Moura e Sá P., Maia I.
Tourism Enterprises and Sustainable Tourism: Empirical Evidence from the Province of Pesaro Urbino
Splendiani S., Pencarelli T., Dini M.
Teaching Innovation Projects Associated with the Introduction of the new Information Technologies (ICTS) Improve Expected Educational Results: The Case of Engineering Studies at the University of Oviedo
Suárez A., Pascual M., Alonso J., Fuentes R., Catalán C., Martís R.
Approaches for Reducing Medical Errors and Increasing Patient Safety: TRM, Quality and 5QS Method
Zineldin M., Zineldin J., Vasicheva V.
---
13th Toulon-Verona (ICQSS) Conference "Excellence in Services" at Coimbra (2010)
Which Quality for System Competitiveness? The "Long-Tail" Touristic Service Case
Pilotti L., Tedeschi-Toschi A., Apa R.
From Industrial Museums to Cultural Industry. An Empirical Exploration of how this Heritage is being Safeguarded by the Members of Museimpresa
Castellani P., Rossato C., Ciarmela L.
Alliances and Groupings in the Local Public Transportation Sector: A Preliminary Survey of Strategic Motivations
Danovi A., Karletsos D.
Board Compensation in the Italian Public Utilities
Menozzi A., Erbetta F., Fraquelli G.
Distances in Public Administrators' and Elected Officials' Perspectives on Services Quality: Exploring the Implications for Citizens' Role in Quality Improvement Processes
Cassia Fabio, Magno F.
---
12th Toulon-Verona (ICQSS) Conference "Excellence in Services" at Verona (2009)
A Set of Statistical Techniques to Implement Continuous Improvement: Outcomes of a Citizen's Satisfaction Survey
Cappelli L., Guglielmetti R., Mattia G., Merli R., Renzi M.F.
Emerging Concepts for Implementing Strategy
Cocks G.
Market Orientation and Adoption of Quality Management Tools in Greek Universities
Papadimitriou A., Westerheijden D.
New Enterprise Models: Trial Runs of "Capitalism with a Human Face"
Brunetti F.
---
11th Toulon-Verona Conference "Excellence in Services" at Florence (2008)
The Application of Quality Function Deployment in Service Quality Management
Andronikidis A., Georgiou A.C., Gotzamani K., Kamvisi K.
Process Improvement Measures in Social Area Organizations: A Study in Institutions for Elderly: Survey Preliminary Results
Antunes G., Pires A., Machado V.
Mastering Performance through Quality and Networking: The Example of French Social and Medical Establishments
Bertezene S., Martin J.
Comparing Critical Incident Technique and Survey Questionnaires as a Means of Collecting Student Feedback
Douglas J., McClelland R., Sudbury L., Davies J.
Organisational Culture, Job Satisfaction and Higher Education Service Quality: The Case of Technological Educational Institute of Larissa
Trivellas P., Dargenidou D.