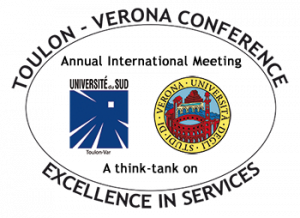 Known in the past as Toulon-Verona Conference, it changed its name in 2017 to Excellence in Services International Conference (EISIC) to highlight Excellence in Services as the particular field of research of this annual Conference.
Both academics and practitioners are welcome to discuss current issues, exchange information, knowledge and experiences across the various domains of services.
The conference was born in the heart of China in 1997 when Professor Claudio Baccarani and the late Professor Michel Weill came up with the idea of organizing a conference on "quality in higher education" which was becoming a hot issue at the time. They decided to simply call it the "Toulon-Verona Conference" as Professor Baccarani was from Verona in Italy and Professor Weill was from Toulon in France.
The Conference has lasted, and is still lasting, longer than their creators would have dreamt of as it is the longest-lasting conference, without interruption, on the topic. The Conference is held in a different university each year and has thus visited Italy four times, France twice, Spain twice, Portugal twice, England, Belgium, Scotland, Greece, Israel and Slovenia once. More precisely:
Toulon 1998
Verona 1999
Derby 2000
Mons 2001
Lisbon 2002
Oviedo 2003
Toulon 2004
Palermo 2005
Paisley 2006
Thessaloniki 2007
Florence 2008
Verona 2009
Coimbra 2010
Alicante 2011
Rishon Lezion 2012
Ljubljana 2013
Liverpool 2014
Palermo 2015
Huelva 2016
Verona 2017
Paris 2018
With time, and the widening scope of quality management, new themes have been added to the Conference over the years: health care, local government, tourism, banking, logistics, to cover today all kinds of services offered to customers and users; hence the adoption of the name "Excellence in Services" for the conference. Since 1998, more 1,000 papers have been presented in the conference.
The Conference aims to create a professional and friendly environment of discussion between scholars on excellence in services at an international level. Every year it attracts hundreds of scholars and a few managers from leading universities and organizations from all over the world by creating a network between more than 20 country such as Italy, France, England, Scotland, Spain, and, outside Europe, Israel, Australia, and the USA.
The conference has eight areas of focus:
1. Higher Education
2. Health Care
3. Local Government and public services
4. Tourism and Leisure
5. Banking services
6. Logistics
7. Theoretical and methodological approaches
8. Statistics for excellence measurement